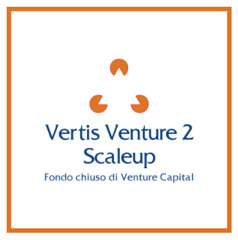 Vertis Venture 2
Launched in July 2017, the "Vertis Venture 2 Scaleup" fund supports the growth of the best Italian innovative companies, investing in those that have completed the technological development of the product / service and that need to launch or consolidate their commercial activities on a national and international scale.
"Vertis Venture 2 Scaleup", whose endowment is € 35.9 million, makes investments in companies, mainly Italy-based, that operate on technologies, products and/or services related to the industrial and digital technology industries (industry 4.0, AI, smart logistics, IoT, digital & media, etc.) with an investment ticket of € 3-5 million.
In about 4 years since the launch of "Vertis Venture 2 Scaleup", the fund's investment team has analyzed 603 dossiers and completed eight investments in Credimi, Milkman, Cyber Dyne, Sclak, Entando, Radical (former Bagbnb), Buzzoole and Fitprime.